Chinese New Year at SUNTEC city, it's a nice feeling when dining at Loving Hut.
The vegetarian movement is slowly catching up with the New Year crowd at Suntec.
Big bold decorations of Chinese lanterns. And the constant reminder that our Earth is in trouble, and the solution is at hand.. Be Vegetarian this New Year !
The lovely neighbour of Loving Hut, the Pangat Authentic Indian Cuisine also offers pure Indian vegetarian meal. Please patronize all the vegetarian outlets in Singapore !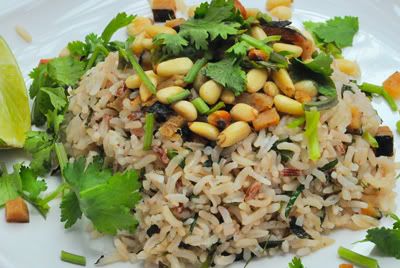 The fragrant pine nut toppings of the herbal brown rice, with a dash of lime juice. Yummy, earth saving, delicious, healthy meal..