Right after a tiring 22 hour flight half way across the globe, with constant ringing in the exploded ear drums and amidst a jet lag we were all trying to shrug off, we arrived at the Golden Gate city, and the first order of the day, right off the airport we drove straight non-stop, our hearts pumping with excitement, on the long awaited visit to Stockton Loving Hut..
We already knew what to expect, a member of our expedition for the Real Love having visited just a couple months earlier... still, we love the ambience of Loving Hut, everywhere we go around the world..
Something which never ceases to amaze us, the giant size of servings as in this, the land of the free and the land of the giant fries...
We are home, we know the people, we know the place.. and we love the food..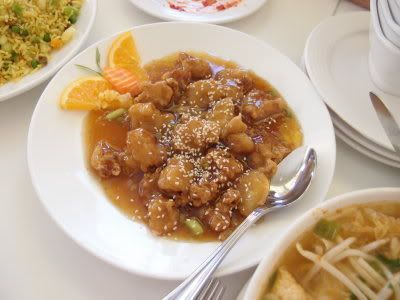 So beautifully decorated with a butterfly knot, who cannot but already feel Love in your hearts ? The vegan nuggets are tasty too, different from the fare we are used to sample back in Singapore, but good stuff..
For dessert, you know a woman's heart if we came all the way across great seas and ocean, and did not fulfill the desire to try the vegan tiramisu, we would not be able to get back home in one piece !!