Starting on 7 Feb 2009,
Supreme Master Television
will broadcast the 5 part series on Benevolent Messages from Mars: Be Virtuous and Save the Earth.
This series to be shown on "Between Master and Disciples" show.
Catch the exciting broadcast and learn about the final days of Mars, how Mars was destroyed, the warnings which came 5 years before, and even up to 2 months before destruction, the Mars people ignored all warnings, thinking they were indestructible or somehow invincible, and what happened swiftly in the final 2 months when every living thing was killed on Mars, up to 90% of its population died..
Learn the bitter lessons from Mars and do not let history repeat itself here on Earth.. We are facing a similar crisis... Change your life now. Be Vegetarian, and Virtuous... Love and Virtue is your only protection..
Be Veg. Go Green. Save our Earth.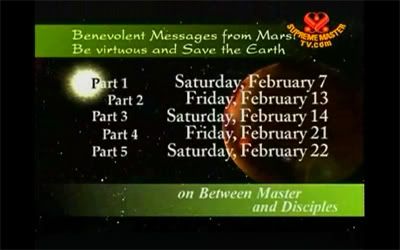 Part1 Saturday, February 7
Part2 Friday, February 13
Part3 Saturday, February 14
Part4 Friday, February 21
Part5 Saturday, February 22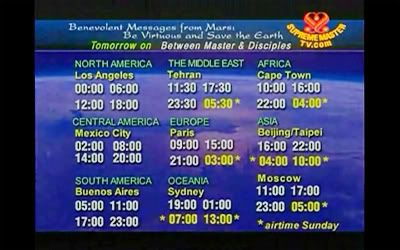 Show Time:
North America LA 0:00 6:00
12:00 18:00
Cental America Mexico City 2:00 8:00
14:00 20:00
South America Buenos Aires 5:00 11:00
17:00 23:00
Middle East Tehran 11:30 17:30
23:30 5:30*
Eurpoe Paris 9:00 15:00
21:00 3:00*
Oceania Sydney 19:00 1:00
7:00* 13:00*
Africa Cape Town 10:00 16:00
22:00 4:00*
Asia Beijing/Taipei 16:00 22:00
4:00* 10:00*
Asia Moscow 11:00 17:00
23:00 5:00*
* airtime Sunday