Loving Hut Singapore will be participating in this event on the upcoming weekend, see you there !!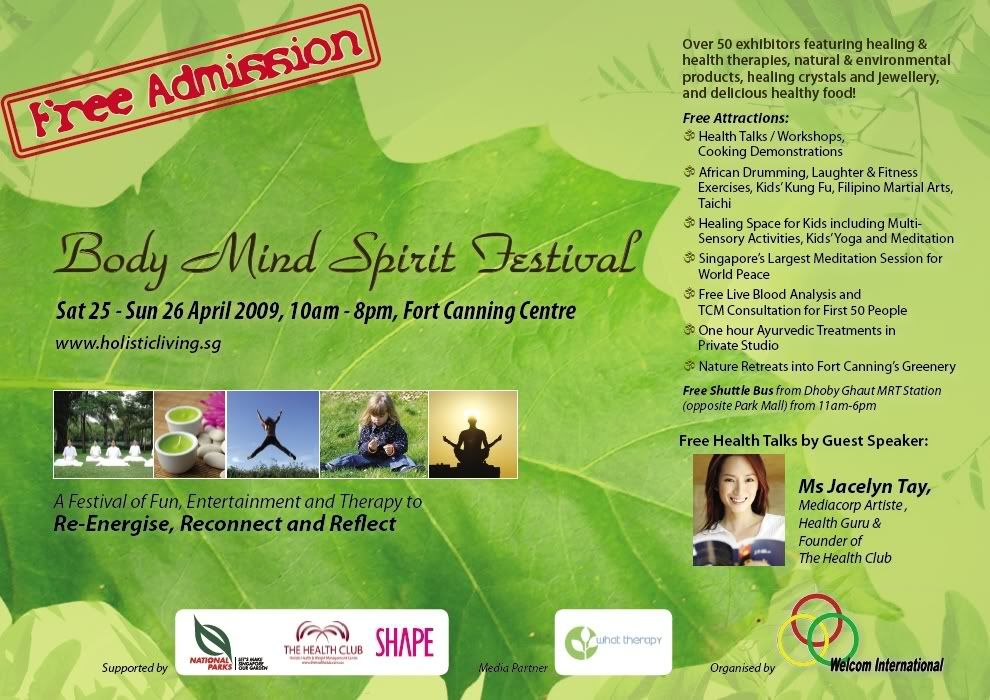 Event: Body Mind Spirit Festival
Date: 25 & 26 April 2009 (Sat & Sun)
Time: 10.00am to 8.00pm
Place: Fort Canning Centre
Booth: No 43
The Body Mind Spirit Festival will be held at the Fort Canning Centre during
the weekend of 25-26 April, from 10am till 8pm. As the name suggests,
this event offers a holistic and spiritual lifestyle by showcasing
products and services for a much needed 21st Century Health and
Wellness Living.
This is the first time that the Organiser has engaged the services of Ms Jacelyn
Tay, Mediacorp Artiste and Founder of The Health Club to promote this
event and is sponsoring prizes worth $5000 towards the FREE LUCKY DRAW.
There will also be exciting courtyard performances scheduled for each
day such as African Djembe Drumming, Laughter Therapy, Get Fit
Exercises, Live Blood Analysis and much more. There will also be a
special booth this year targeting families with young children :
Healing Space For Kids with ART & Meditation. Children may engage in
meaningful activities so that parents are free to sign up for the free
workshops or take their time to shop around the different booths.