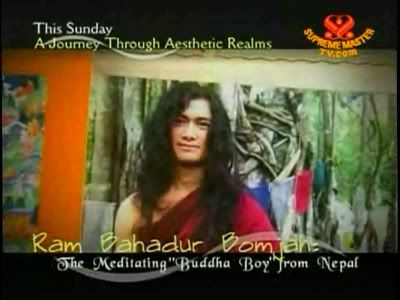 Coming this Sunday on Supreme Master Television, the story of Buddha Boy Ram Bahadur Bom Jan of Nepal.
You have probably heard of the Buddha boy who spent long hours meditating in the forest, and occassionally appearing in the public to bless the people.
Listen to the messages he brings to us ...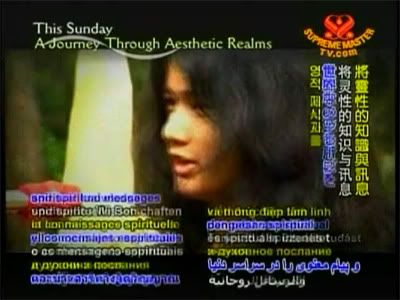 Sunday, May 3 - Part 1
Monday, May 4 - Part 2

Show Times:

North America        The Middle East       Africa
Los Angeles          Teheran               Cape Town
22:30 (-)  04:30     10:00     16:00       08:30     14:30
10:30      16:30     22:00     04:00 (+)   20:30     02:30 (+)

Central America      Europe                Asia
Panama City          Paris                 Beijing/Taipei
00:30      06:30     07:30     13:30       14:30     20:30
12:30      18:30     19:30     01:30 (+)   02:30 (+) 08:30 (+)

South America        Oceania               Moscow
Buenos Aires         Sydney
03:30      09:30     17:30      23:30      09:30     15:30
15:30      21:30     05:30 (+)  11:30 (+)  21:30     03:30 (+)


(+) airtime day after
(-) airtime day before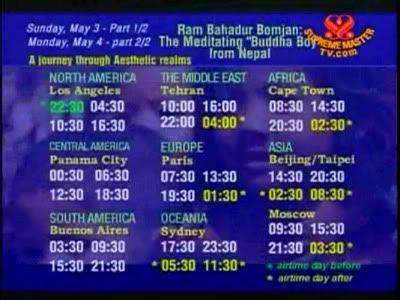 If you miss the scheduled broadcast you can download the video a few days later from
Supreme Master Television - Journey through Aesthetic Realm