We have received news that Master would soon reveal the most auspicious locations for world leaders to shift their headquarters and presidential palaces. In an earlier video conference, She had revealed the existence of hell portal and lower roads which were a hinderance to world peace for the leaders of the nations in this world. And now, the much awaited solution, a free global feng-shui service by the Master !
Immediately, all our travel plans were changed. We decided to return the car to the airport so we will have a leisurely morning waiting for the video conference.
The next day we huddled up at the hotel room, waiting for the 9am slot of Between Master and Disciples and we watched until Master patiently told of the various locations that leaders of our nations have to shift to avoid negative influence. The A to Z list of nations who have to shift their headquarters was long and finally completed. We hang around the hotel waiting for a free upgrade which the friendly counter staff promised us free of charge. Having settled our accomodation problem, we set out to hit the streets again, and we met 2 sisters along the way hailing from the plum blossom island, also searching for the Real Love..
We head to 8th and market to settle some banking problem, and with some money in my pocket, we were good to go again, and we knew just exactly where we were going for a late afternoon lunch..
Back at 5th and market just across the street from our hotel, where we choose to stay, perhaps the most convenient and more recent Loving Hut in San Francisco..
We were suitably impressed by the size of the outlet even though it is inside a food court, it is still large and very spacious, seating is a luxury we can afford to choose at all points around the compass.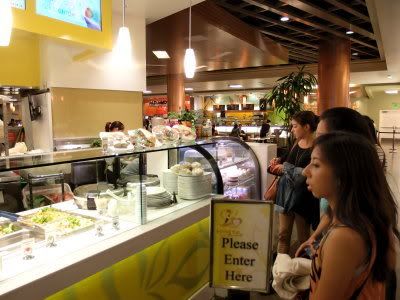 Westfield, about a year in operation, is a major draw for both locals and visitors alike. We like the place immediately, it is so convenient and central along market street.
Obviously, one of the things that is attractive to little sister is the variety of cakes they have, and all we must try, she declared.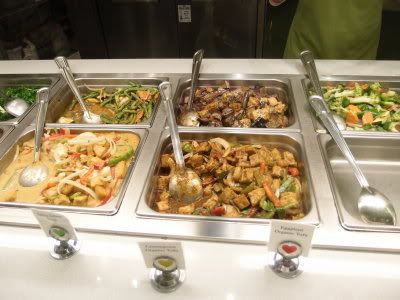 Looking at the food they offered, it is familiar and most welcome sight. We feel like we have never left home, and Westfield became our frequent haunt since then.