After the Stockton meal, we did a quick tour of the Marina and Presidio area, enjoyed the breeze and seagulls' company. Little sister got a chance to drive the car in the car park, but being unfamiliar with left-hand driving, we did not feel safe to let her venture to the streets..After that, our fruitarian-social-vegan brother took over the obligatory drive to the Golden Gate bridge.
In the evening, we drove about 4 hours south east to San Jose, arriving at late evening to the warm welcome of the Vegetarian House, surely the crown jewel of our stay at the Golden Gate city.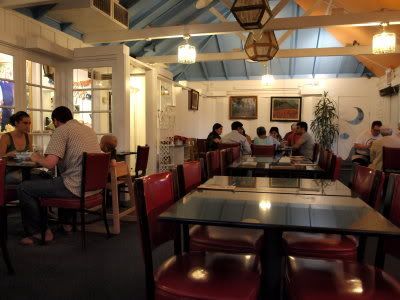 We drove a little cautiously, averaging no more than 70mph and it was soon dark, we passed Milpitas but it would have been closed probably, so we headed for the place we knew would be open, and for our small party we were pretty excited, even though this is perhaps not the first time but it is exciting notheless..
The tables were soon filled, crowds came in droves, small Indian families, American vegan guests, couples probably staying near by... we were told the place needed reservation during holidays..
Little sister as usual has the honor to do the ordering, and so the friendly waiter recommended some dishes to us, the first to arrive is a dish of sweet and sour soup, thai style...
Obviously, we were testing the mettle of the cooking staff, and they did farely well in our ratings. There is nothing we can complain about... right here in silicon valley being able to taste a traditional thai dish is a testament to the variety of exquisite vegan cooking skills. We are after all in the Master's house and we expect that standards will be high and it was so.
I took the opportunity to order the Lagsane, being that vegan cheese is abundant here in the land of dreams.
Size of the plate is a little overwhelming for Asian hands, two vegans with small appetitie and a fruitarian, social vegan !
And of course, you don't go to the vegan restaurant without tasting the omnipresent Pad Thai, so here it is...
The gravy is just a tad too little, and being that we have a full table of many dishes, by the time we got to this dish, it was mostly dry... A little regret on an otherwise unforgettable evening.