No matter how many times we tried it, we like it very much... finger food at Loving Hut is delicious and there are plenty of varieties to choose from..
Who needs to eat seafood or oysters or animals when you have such lovingly prepared, delicate cuisine such as the vegan variety shown in this picture ? Absolutely adorable, delectable, simply heavenly.
When you eat right, and you eat according to God's will, happiness fills you inside and out !! Live with love and respect for all beings.
Live as you want others to spare your lives, so spare the lives of sea creatures and animals. We have tortured, maimed and killed them for centuries. It is high time we came out of the bad karmic retribution.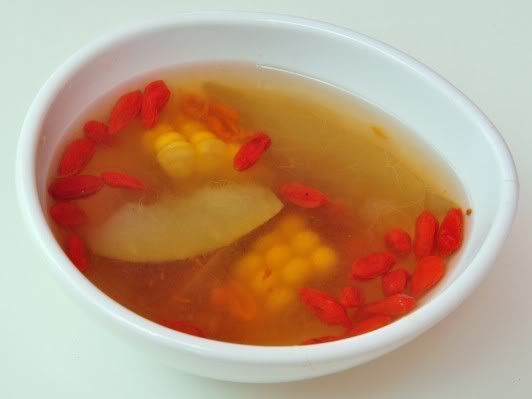 Order this side dish or as a rice set, which comes with the soup of the day. Shown here is the corn and carrot soup sprinkled with generous amounts of goji berries. Goji berries or wolf berries are good for improving your eye sight and used in Chinese medicine as such; it is also known to purify the blood.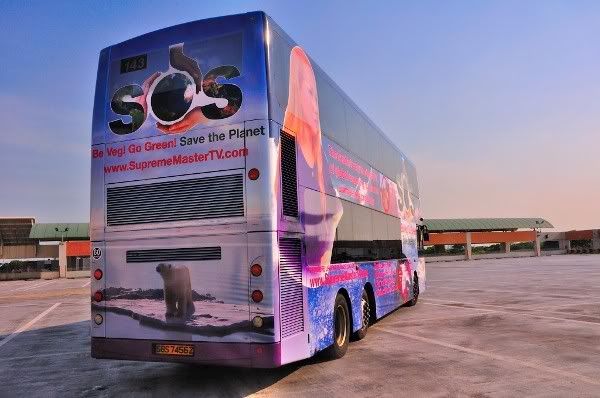 Catch the SOS global warming bus 131 any way from Whampoa, to Bukit Timah, Thomson, Bencoolen Street, to Shenton Way and it will bring you right to the Bukit Merah bus interchange, within 3 minutes walking distance from Loving Hut at POSB block 161, just in front of Bukit Merah branch library.
The double decker SOS bus no. 143 runs from Toa Payoh, Orchard to Jurong East interchange.