With only 1221 days left before the major disastrous, unstoppable start of the arctic ice cap melt-down in year 2012, the message of global warming is ever more urgent.
Now this message is being brought to the consciousness of the Singapore public through the media of global warming buses plying the central heart of Singapore.
The message is clear, and the solution is equally simple. Be Vegetarian. That is how you can help to save our world.
The buses will start to patrol the roads in Singapore starting this week.
They are bus no. 55 operating from Bishan to Mandarin Gardens.
Bus no. 58 operating between Bishan and Pasi Ris Int.
Don't forget to catch the super double deck bus no. 143 running from Toa Payoh to Jurong Interchange. Enjoy the bliss of Supreme Master Ching Hai's blessings while on the journey to work or play... and help us and help yourselves by telling everyone you know about the major global warming crisis which can stop our lives, we need to stop eating meat now !!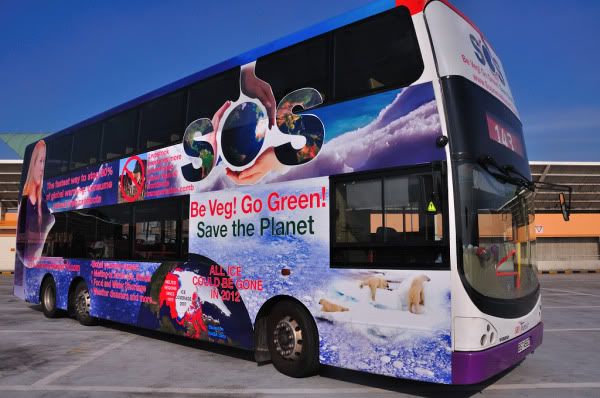 If you are taking bus 131 from St. Michael Terminal to Bukit Merah Interchange, you can stop by Loving Hut at Bukit Merah Central !! Check out the third loving hut location which is at Block 161, Bukit Merah central.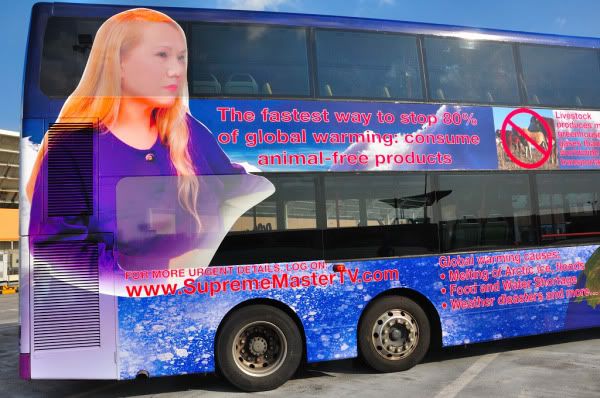 Supreme Master Ching Hai said : "We don't have to die to save the world. Just be vegan."